Renovate Or Remodel Your Bathroom in Ogden, Utah!
Are you ready for a bathroom makeover? At Big Yeti Builders, we're passionate about turning this intimate space into a functional and beautiful part of your home. As one of the top choices for bathroom remodeling in Ogden, Utah, we bring years of dedication and expertise to every project. From upgrading fixtures to creating a more efficient layout, we can help you transform your bathroom into the luxurious oasis you deserve. 
Let us help you create the bathroom of your dreams – request a free estimate today!
Transforming Spaces with Bathroom Remodeling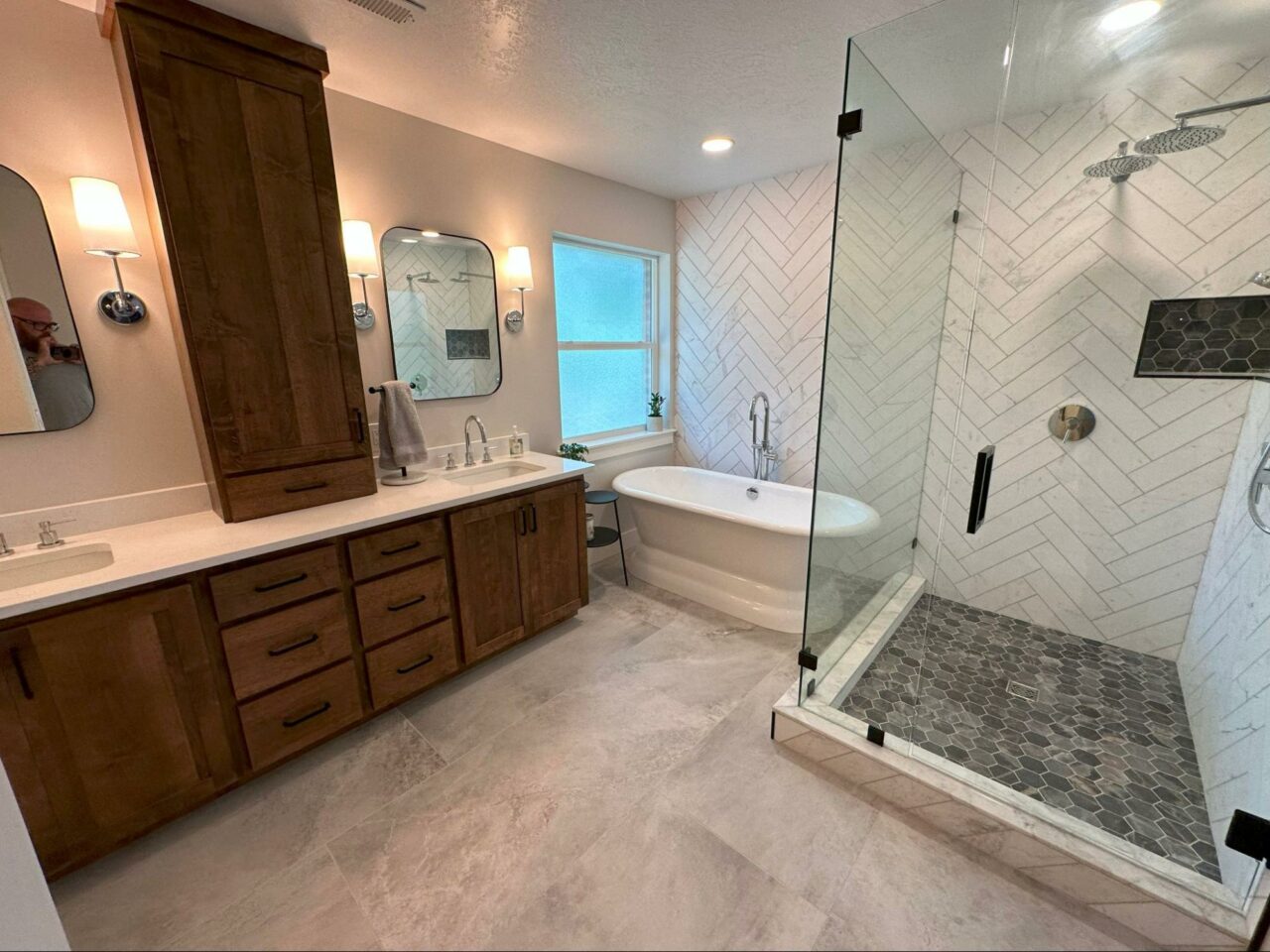 Big Yeti Builders has you covered if you're seeking a bathroom that suits your style or want to add value to your home. We provide a comprehensive bathroom remodeling service, handling everything from design to installation. We work closely with our clients, guiding them through material selection, layout decisions, and all the little details that make a bathroom functional and beautiful.
Here are some examples of how we can transform your bathroom:
Expand the Space

: If your bathroom feels cramped and unusable, we can help you reconfigure the layout to make it feel more spacious. This can include knocking down walls, rearranging plumbing, or making better use of the available square footage.

Upgrade Fixtures:

Adding modern fixtures can give your bathroom a fresh new look. We can help you select the right fixtures that fit your budget and style, including showers, tubs, sinks, toilets, and more.

Add Storage:

Say goodbye to cluttered counters and towels lying around. We can install vanity units, cabinets, shelves, and storage solutions that fit seamlessly into your bathroom design, keeping everything organized and within reach.

Upgrade to Low-Maintenance Materials:

Are you tired of scrubbing grout and cleaning up stains? We can upgrade to low-maintenance materials like quartz or granite countertops and frameless glass shower doors that make cleaning a breeze.

Improve Functionality:

Does your bathroom lack proper lighting? Do you wish you had a separate shower and tub? We can address these issues and more by redesigning your bathroom layout and bringing in new fixtures and accessories.
Our team is committed to creating bathrooms that stand the test of time. We're not just about making the space look good; we're committed to ensuring its longevity, functionality, and ease of maintenance. Here are some ways we ensure quality:
Use of Quality Materials:  We work with trustworthy suppliers and use quality materials to give our customers the best value for their investment. 
Expert Craftsmanship: Our team of expert craftsmen ensures every element of the remodel, from the grout lines to the plumbing, is done with attention to detail, giving your bathroom a polished and professional finish.
Code Compliance: We are knowledgeable about Utah's building codes and regulations, ensuring your remodel meets all safety requirements. 
Labor Warranty: We stand behind our work and offer a 2-year labor warranty on all our bathroom remodeling projects for your peace of mind, so you can rest assured that if anything goes wrong, we'll fix it.
Enjoy a Stress-Free Bathroom Remodeling Process!
At Big Yeti Builders, we believe communication is key to a successful project. Our bathroom remodeling process is designed to be stress-free for our clients:
Free Estimate & Consultation:

We begin our bathroom remodeling projects with a free consultation. This allows us to discuss your vision and give you an estimate of the costs and timeline for your specific project.

Design & Material Selection:

Our team works with you to design your bathroom and select materials and fixtures that fit your budget and style.

Permitting:

We take care of all necessary permits and approvals to ensure your project meets all local building codes and regulations.

Construction:

Our experienced craftsmen build your dream bathroom, keeping you updated on the progress and ensuring minimal disruption to your daily routine.

Enjoy Your New Bathroom:

Finally, we clean up your home and make sure everything is to your satisfaction. Now it's time for you to enjoy your beautiful new bathroom!
We understand the inconvenience of a bathroom renovation project, and we strive to complete our work within the agreed-upon timeline so that you can start enjoying your new bathroom as soon as possible.
Request Your Free Estimate To Get Started!
If you're ready for a bathroom transformation, let us make your vision a reality. Contact our expert bathroom remodelers in Ogden, Utah, today to request your free estimate. We look forward to helping you create the perfect bathroom for your home!