When deciding between a pergola and a pavilion for your outdoor space, it's essential to consider your specific needs, preferences, and the purpose you want your shade structure to serve. The right choice can significantly impact the overall appearance, functionality, and enjoyment of your backyard sanctuary. It can also affect the activities you can do in that space.
Pavilion and Pergola Comparison: Key Features at a Glance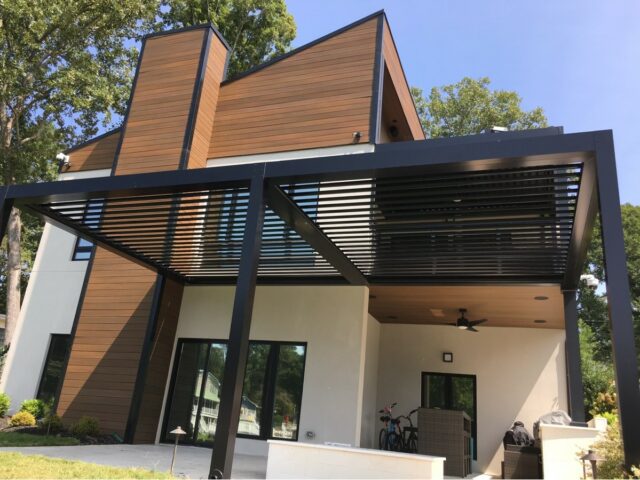 Pavilions and pergolas are beautiful outdoor structures that provide shade so you can enjoy the outdoors in comfort. These shade structures help to create a more comfortable setting for any outdoor activity, from outdoor dining to entertaining guests. However, some key differences set them apart.
Pavilion Features & Uses:
– Solid roof offers full protection from weather conditions
– Ideal for entertaining large groups, with ample space for furniture and appliances
– Can accommodate lighting, ceiling fans, or even TVs and built-in speakers
Pergola Features & Uses:
– Open roof provides partial shade, more airflow, and an unobstructed view of the sky
– Highly versatile and capable of fitting in almost any deck or patio
– Louvered pergola models let you open and close the roof to create the ideal shade conditions
When To Choose A Pavilion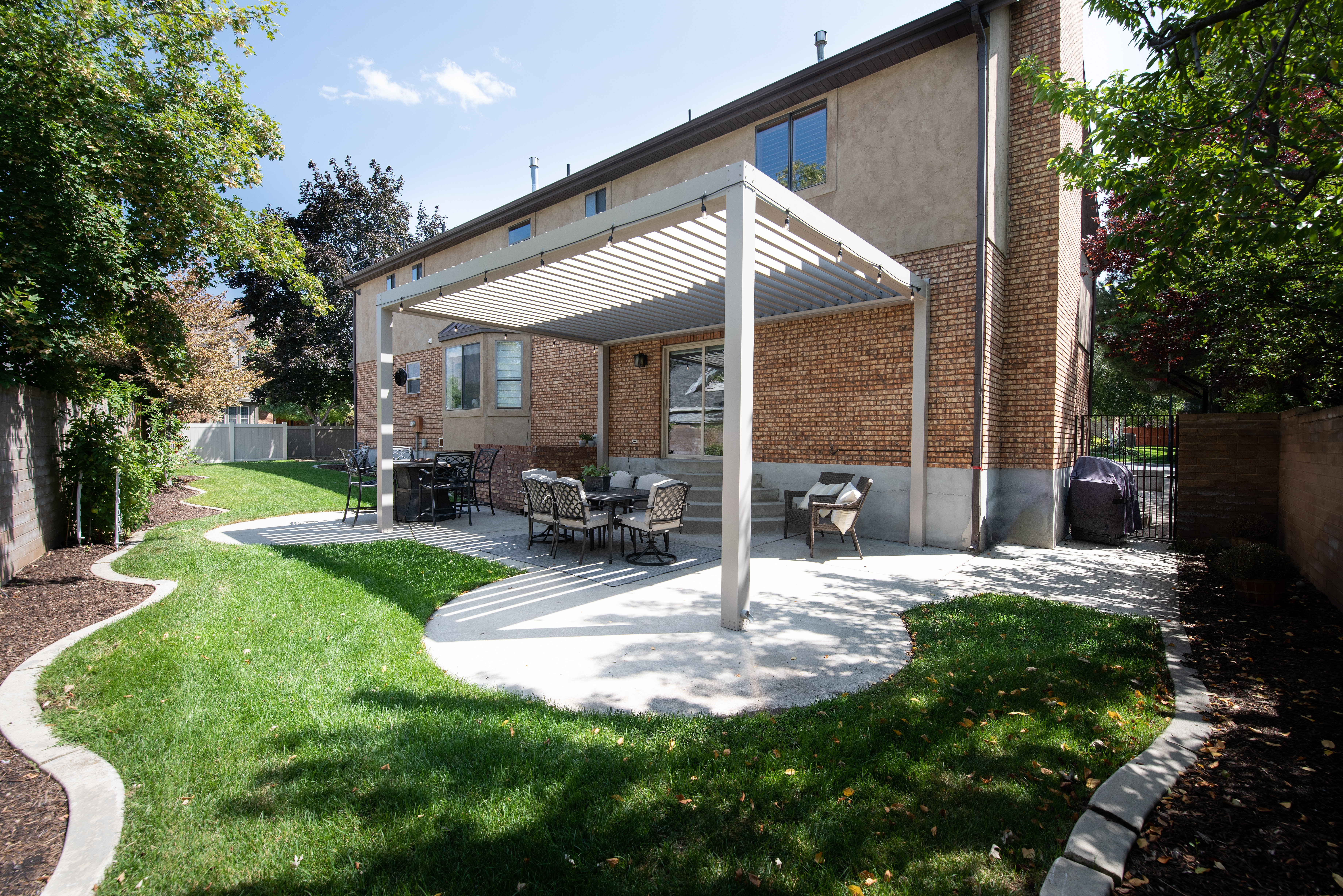 Weather Protection
A pavilion's solid roof provides full coverage against sun, rain, and even snow, allowing you to enjoy your outdoor space regardless of the weather conditions. This means you can host outdoor parties, barbecues, or events without worrying about unexpected bad weather affecting your plans.
Ample Living Space
Due to their solid roof and typically large size, pavilions provide ample space for outdoor furniture, grills, and dining or entertainment areas. As a result, they are ideal for hosting large gatherings or creating an outdoor living space packed with features and amenities.
When To Choose A Pergola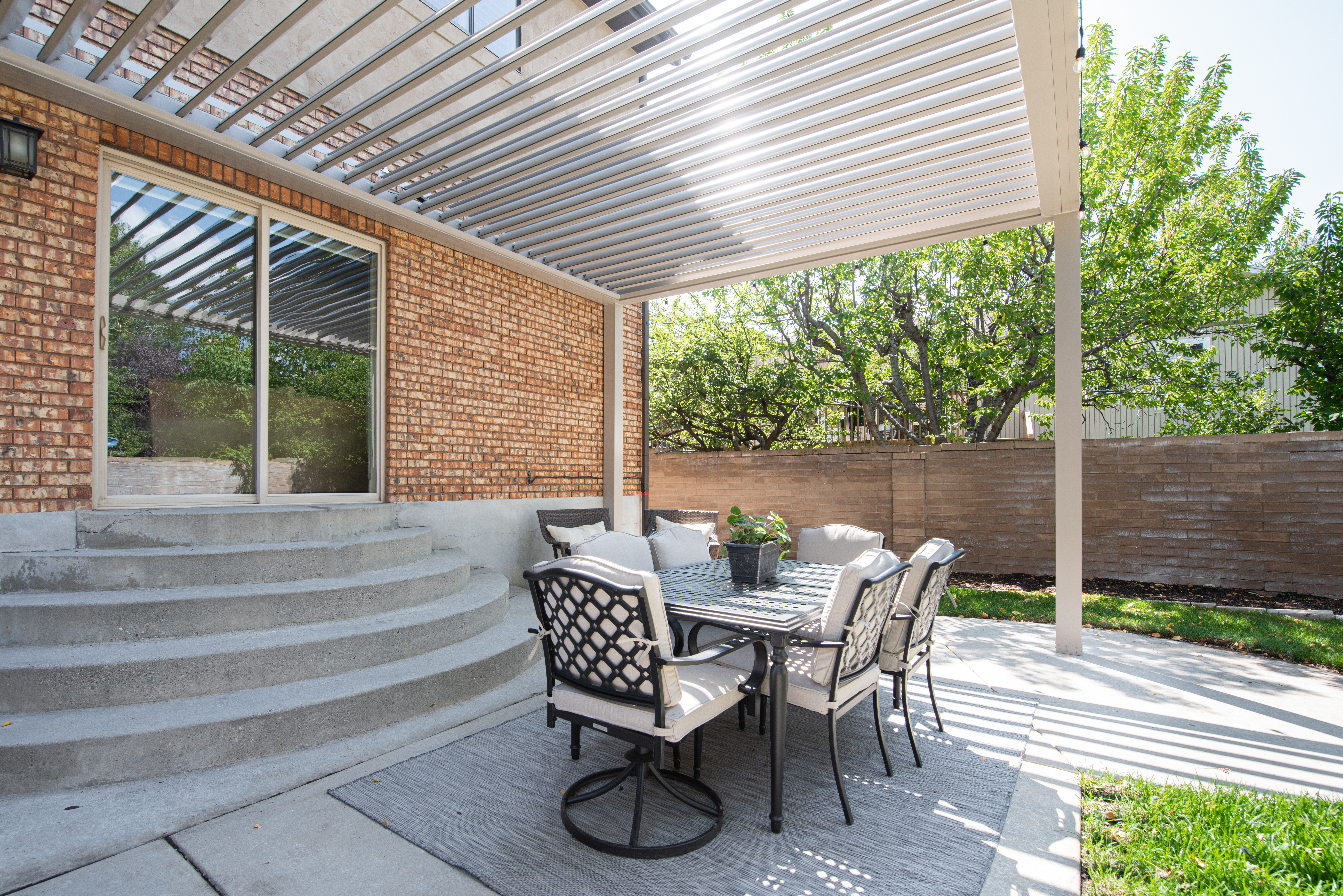 Open and Airy Feel
Pergolas are characterized by their unenclosed design, featuring an open roof of crossbeams that lets some natural light pass through. This allows you to enjoy the beauty of the sky or the stars while staying shaded during the day.
Budget-Friendly
In comparison to pavilions, pergolas tend to be more budget-friendly. Their smaller size and simple design mean fewer materials are required, making them a great option for homeowners looking to add shade to their outdoor space without breaking the bank.
Versatile in Placement
Pergolas are highly versatile structures, capable of fitting in almost any deck size or yard configuration. This adaptability allows you to easily incorporate a pergola into your existing outdoor space, adding extra shade to your deck, patio, or garden area.
Control Over Shade Conditions
For those who want more control over the shade conditions, motorized louvered pergolas allow you to open and close the roof with the touch of a button. These models are usually more expensive than traditional pergolas but will enable you to create the perfect amount of shade in your outdoor space at any given time.
Pergola Vs. Pavilion: Conclusion
In conclusion, the decision between a pergola and a pavilion ultimately depends on your specific needs, backyard layout, and the intended use of your outdoor space. Both structures offer unique benefits, with pavilions providing full weather protection and ample space for entertaining, while pergolas offer a more open and airy feel with a budget-friendly design.
Working closely with a professional contractor is essential to ensure you get the right structure for your outdoor space. They will guide you on the best shade structure for your needs and how to integrate it effectively into your new outdoor living area.