In this blog post, we will explore the unique advantages of five different types of deck lighting: post mount lights, step lights, under rail lights, post cap lights, and recessed deck lights. Each type offers its own unique charm and practicality, catering to different needs and styles.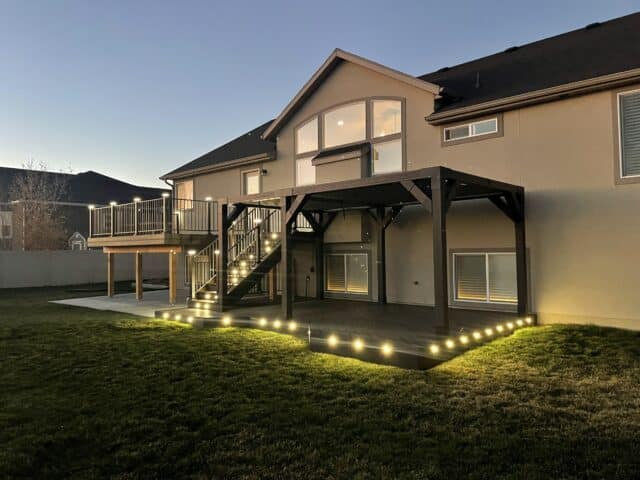 1. Step Lights
Step lights are installed in stair risers and provide a practical lighting solution.
The primary use of this type of lighting is to increase safety by illuminating stairs, reducing the risk of accidents. These low-profile lights provide plenty of visibility, inviting guests to explore your outdoor oasis with ease and confidence.
In addition to their safety benefits, step lights greatly contribute to the overall aesthetic of your outdoor space. Deck stairs with lighting can evoke a majestic feeling as you ascend or descend, adding a luxurious touch to your outdoor living area.
2. Post Cap Lights
These lights are installed on top of the deck railings' posts. Post-cap lights are a stylish addition to your deck, providing an elegant, finished look to your railings and a subtle, inviting illumination for your outdoor space. They look luxurious and will leave a lasting impression on anyone checking out your deck.
Perfect as ambient lighting for dining or seating areas, post-cap lights offer a warm, welcoming glow that enhances your deck's atmosphere. Many models are fully solar-driven, making the installation process seamless and eliminating the need for any electrical work.
3. Under Rail Lights
Under rail lights offer a discreet lighting solution that illuminates the edge of your deck while highlighting its architectural details. Installed on the underside of your top rail, these lights remain virtually unnoticed during the day, revealing their beauty only when night falls.
Under rail lights direct their illumination downward, casting a clear and focused light on the deck surface. This draws attention to the intricacies of your deck railings, making them stand out.
In addition to enhancing the overall aesthetic appeal of your outdoor space, under rail lights contribute to a safer environment by illuminating potential trip hazards near the edge of the deck.
4. Post Mount Lights
Post-mount lights are another great option for illuminating your deck's perimeter. Their side-mounted placement and downward light direction offer a subtle and visually appealing way to enhance the safety and ambiance of your outdoor space.
The unique positioning of post lights on the inner side of the railing ensures that they remain unobtrusive when viewed from ground level, as their illumination is contained within the deck area.
5. Recessed Deck Lights
Recessed deck lights offer numerous advantages, making them an excellent choice for various outdoor spaces. These lights are installed flush on the deck boards, preserving valuable space while maintaining a sleek, clutter-free appearance.
Recessed deck lights can be crucial in ensuring safety in outdoor spaces. They are particularly useful for illuminating high-traffic areas and spots with elevation changes, effectively highlighting potential trip hazards. In addition, they can be invaluable when there are no railings or other sources of lighting nearby.
Conclusion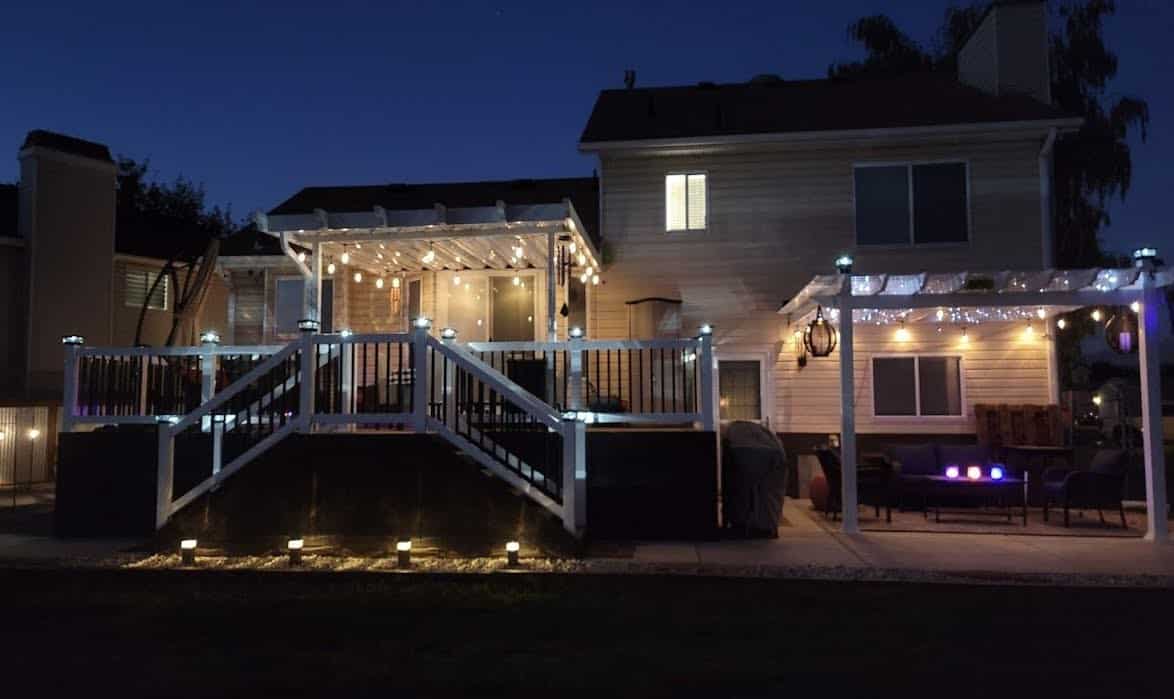 The possibilities to illuminate your outdoor space are endless. Making sure that you have proper lighting installed does not only benefit from you from a safety aspect, but can also set the tone of your evening functions.
Schedule a free consultation today, and let's turn your backyard dreams into a reality!